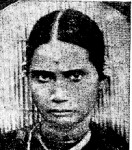 In the past, we have featured an analytical review of Bhandaru Acchamamba's contribution to Telugu literature (written by Kondaveeti Satyavati) and two stories written by Acchamamba.
Recently, I have come across Acchamamba's monumental work, abalaa saccharitra ratnamala [Biographies of Laudable Women], volumes 1 and 2. These two volumes however are not available for purchase. Only digital copies are made available to the public by the Digital Library of India, maintained by Indian Institute of Science, Bangalore, India. I gratefully acknowledge their service.
The first volume included detailed account of Acchamamba's life story which is no less interesting than her monumental work, abalaa saccharitra ratnamala [Biographies of Laudable Women]. Following is the gist of her biography as given by the publishers and her introduction as appeared in the first volume:
Acchamamba was born to Komarraju Venkatappayya and Gangamamba in 1874 in a small village called Nandigama in Krishna district, Andhra Pradesh. She had a younger brother, Komarraju Lakshmana Rao, who was a prominent scholar, literary historian, social reformer, and more importantly, significant figure in Acchamamba's education and literary pursuits.
Acchamamba's father strongly believed that woman's place was at home and refused to let her receive education. After his death, mother moved with her two children to live with her step son Sankara Rao. Per custom at the time, Acchamamba was married at the age of six to her maternal uncle and widower, Bhandaru Madhava Rao. At seventeen, she was sent to live with him. Like her father, Madhava Rao was also against education for women. And Acchamamba, respecting his wishes, observed traditional sati dharma [the tenets prescribed for dutiful wife by Sastras] and the ghoshaa system [covering her face and staying out of sight of men]. Yet, she was equally determined to educate herself. She achieved her goal, after bringing her brother to her home for his education. She learned how to read and write Telugu and Hindi, sitting next to her brother while he studied. After Lakshmana Rao left for Nagpur for further studies, she continued to study on her own. She learned the local language Marathi in the same manner, by her own effort. Additionally, her brother used to visit her whenever he had vacation and helped her improve her language skills in five languages – Telugu, Hindi, Marathi, Bengali and Gujarati. She also learned Sanskrit, minimally though.
Regarding English texts, Acchamamba stated that she did not have the English language skills, and therefore, relied heavily on the Marathi translations of major English works like Mill, Spenser and Lubbock. She commended the Marathi scholars' fervor to producing translations of the English originals and wished that our Telugu scholars followed their example and undertook translations from English.
Acchamamba was a meticulous writer. She would take great pains not only to find material for her work but also double check her sources for authenticity. Sometimes, she would have to wait months and even years to find her sources and confirm she got it right. The publishers pointed out that it took four years for her to put together the second volume because of her diligence. For instance, 1903, she set out to visit her friends in Krishna and Godavari areas and then she went to Benares where she met with Sanskrit scholars and studied the Vedas in order to verify her stories of women in Vedic literature. On another occasion, she wanted to quote a sloka from Rutu samhita. She went to great lengths and found a copy of the Rutu Samhita [A long poem in Sanskrit] in Hyderabad.
She had a clear notion of her project. Her brother helped her to define her goals and create the layout for her project, she added. She described her objectives as follows:
Some people allege, "women are weak, dim-witted and lack commonsense. My first objective is to disprove those allegations and prove that women have been courageous, remarkably knowledgeable, highly educated; they love their country, and are politically astute, and several of them live meritorious lives. Not only that. It is also my intent to postulate that women are naturally predisposed to follow the path or virtue but not evil ways.

 Second, Some gentlemen opine that, if women are educated, and given freedom, they would take to imoral ways, humiliate their husbands and destroy the pleasure of family life. My aim is to establish with examples that these accusations are meaningless, and that the education would actually help them to stay away from evil paths, not turn them into bad people. The country would only benefit from the freedom women would obtain through learning, not suffer loss. Education for women is extremely important.

My third objective is to write a book that is enlightening and interesting to my sisters in Andhra Pradesh. Everybody knows that real life stories yield better results than fictitious narratives. Therefore, I wish to convey the importance of pativratyam [unconditional devotion to husband], love of country, women's education and other virtues to our Andhra sisters through these biographies.
Acchamamba further elaborated on her methodology. According to her plan, volume 1 would cover women in the history of India. By history, she meant the period from 1000 A.D. to the present, she added. This part would include women like Padmavathi and Samyukta, and righteous women like Anandibai. (While working on this volume however she discovered some stories of women who lived in the age of Gautama Buddha, putting the date a few hundred years back to B.C.  Then, she realized that history meant the period as far back as we could unearth the stories reliably.). Volume 2 would cover the stories of women in the Vedas (Gargi, Maitreyi), Puranas (Parvati, Sita, Tara, Damayanti, Draupadi and others), and Buddhist women (no examples were given). Volume 3 would cover women from other countries like England.
True to her convictions, Acchamamba narrates the stories with equal fervor whether it is an out of the ordinary situation (e.g. in the case of Vengamamba, regrowing hair instantaneously after her head was shaved by traditionalists), or the unusual bravado of women in royal families to save their husbands from rival kings (e.g. Vimala pretends to be a man and helps her husband escape from prison in the enemy's palace) or simply the remarkable tolerance for suffering in the hands of husbands (e.g. Komarraju Jogamamba). For her, the ancient tenets of pativratyam were as important as the modern notion of education for women. She proved that both the standpoints are not contradictory each other but complementary.
She stated that she had researched to the best of her ability to find women in each state and found a few in Kashmir, Punjab, Rajasthan, Gujarat, Bengal, Maharashtra and Andhra Pradesh. Had she left any names, it was only due to her ignorance, she added and asked the readers to forward the information to her so she could incorporate them in her work.
Acchamamba also stated that her main sources were the old bakharies [documents?], prevalent stories, history books and several monthly and weekly magazines in Hindi and Marathi.
"When I said history, I had in mind the period from 1000 A.D. to the present. As the work progressed, I found stories of some Buddhist women existing in 300 to 400 years B. C. Secondly, although I was not knowledgeable in English, I gathered several narratives from the Marathi translations of English works. Marathi scholars are proficient in enriching their language. To me, English writers like Mill, Spencer and Lubbock appear in Maharashtra attire. Telugu people need to emulate their example. Because of the texts in Marathi language, I was able to write this book without learning the English language and I commend them for their service."
Some of these accounts were published in women's magazines such as Savitri, Hindusundari, and Anasuya, all popular at the time. Acchamamba also mentioned that her first volume was published in Chintamani, women's magazine run by prominent social reformer, Kandukuri Veeresalingam.
Acchamamba added that, chronologically speaking, the entries in the second volume should go first but she could not do so. The availability or lack thereof, made her proceed with whatever she had on hand. She said she hoped her readers would condone this minor inaccuracy on her part.
Acchamamba also has written two books on knitting, one on crochet and the second wool, one satakam (a book of one hundred verses) and short stories. Except the short stories, the other works are not available now.
She traveled extensively not only to gather data for her work but also to meet with prominent women scholars and discuss women's issues. At the end of her introduction, she suggested that these elite women should get together once a year and work towards educating other women. To that end, she provided a list of contemporary women working as journalists, educationists, and social reformers with the hope that they would at least get to know each other and keep in touch with each other.
I have mentioned at the outset that Acchamamba's personal life is equally fascinating. The biography included in the first volume provides us with some interesting anecdotes.[i] As stated by the biographer, Acchamamba observed ghoshaa in step with her husband's beliefs, and would not speak with men unless it was absolutely necessary and even then she would say as little as possible and leave quickly.
Following example is given to highlight Acchamamba's strong belief in sati dharma [Prescribed tenets for a dutiful wife]. While the she, her husband and step daughter, Meenakshamma, came for a brief visit with the author. One evening, they all finished eating supper and sat in the front room, chatting and eating paan. He was rolling the paan leaves with betel nut and handing them over to her. Acchamamba took them but would not eat. He asked her why she was not eating the paan but got no reply. Then, Meenakshamma went to the partially opened door, returned and told him, "My father has not eaten his paan yet. Until he has eaten, she would not eat."
In this story, what struck me as peculiar is the manner in which she managed her relationship with her husband and still achieved her goals in life. She was able to change her mind and stance on women's education and her public activities. She educated herself, and pursued her literary and humanitarian activities, while living the life of a dutiful wife according prescribed tenets. Compromise is a great cultural value for Indian women. Several stories in the abalaa Saccharitra Ratnamala vouch for this tenet. Acchamamba followed what she preached by narrating these stories.
Another anecdote was about her ability to be calm in the face of pain and suffering. It seems at the age of five or six she was stung by a scorpion. Unlike other children who would throw a tantrum, the little girl remained calm and quiet until a family member found out about it and treated her! Even in her childhood, she was kind, generous and adroit. Whenever her parents gave her money, she would give it to the poor, but never spent it on herself. She never thought of her own needs or suffering.
In short, it would appear Bhandaru Acchamamba's life and work epitomizes the Indian womanhood. She cherished traditional values, lived the life of a righteous woman and succeeded in making a difference in the lives of innumerable women remarkably.
Bhandaru Acchamamba passed on January 18, 1905, leaving behind her grieving husband, mother, stepdaughter, several friends and ardent supporters.
Relevant articles on this site are:
Bhandaru Acchamamba: First story writer in Telugu
Stories written by Acchamamba: A Review
Women's Education (story) by Acchamamba
Lakshmi puja day (story) by Acchamamba
000
Sources:
Acchamamba, Bhandaru. Abalaa saccharitra ratnamala available at archive.org in Telugu
Acchamamba's picture couresy of te.wikipedia.org.
[i] From the preface in the second volume, the author of her life history appears to be Gadicherla Harisarvottama Rao. He claimed he was responsible for publication of the two volumes and appended his name to the preface in the second volume.
(© Nidadavolu Malathi)
April 7, 2013