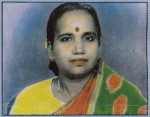 Kalaprapoorna Dr. Utukuri Lakshmikantamma, (1917-1996) was a rare combination of several talents from reciting poetry extempore in Sanskrit and Telugu to martial arts such as fencing, stick fighting and horse riding.
Lakshmikantamma was born on December 21, 1917, in a sophisticated family of scholars and social activists. Her father Nalam Krishna Rao was a reputable poet, journalist, and active participant in the social reform movements of his time. He was the founder-president of Gautami Granthalayam, one of the oldest and highly acclaimed libraries in the state. Her mother Nalam Suseelamma participated in her husband's activities and was the founder of Andhra Mahila Gaana sabha [Andhra Music society]. One of her distant aunts, Battula Kamakshamma, was founder of Arya Seva Sadanam, which was converted to Andhra Yuvati Sanskruta Kalasala [Sanskrit College for Women] later. Against this background, it is no surprise that Lakshmikantamma became actively involved in political and social movements at an early age.
In her childhood, she used to play boys' sports along with her brothers and their friends. At the age of seven, she started learning vocal and veena. By twelve, Lakshmikantamma was already an exhilarating speaker. She used to deliver electrifying speeches and sing patriotic songs. Crowds would hold their breath and listen to her speech or singing.
She was married at thirteen to Utukuri Hayagriva Gupta, a lawyer and six years senior. They had their first child in 1935 but the baby lived only for six months. Of the eleven children the couple had, five children—three boys and two girls—grew up to be well educated and well settled in life.
At eighteen, she graduated from the Sanskrit College run by her aunt Kamakshamma and received the degree, ubhaya bhashaa praveena, an attestation of scholarship in two languages, Sanskrit and Telugu. The same year, she was bestowed with two titles, Telugu molaka [Telugu sprout] and vidwat kavayitri [Poet of excellence]. Lakshmikantamma, who had been named "Sahiti Rudrama" [Queen Rudramadevi in literature] by Devulapalli Ramanuja Rao, President of Andhra Pradesh Sahitya Akademi, was the proud recipient of ten more titles including kalaprapoorna (awarded by Andhra University, 1976), Andhra saraswati, dharma prachaara bharati, and sangeeta sahitya kalanidhi, in addition to honorary doctorate. Mention must be made of two felicitations, kanakabhishekam [being showered with gold] and gajaarohanam [Elephant ride], which are normally associated with royalty of the past and rather unusual in modern times. To my knowledge, Lakshmikantamma was the only author to be honored with these two felicitations.
She was actively involved in several literary and social organizations such as Andhra Pradesh Sahitya Academi, Telugu Bhasha Samiti, Andhra University Senate, Viswa Hindu Parishat, Andhra Pradesh Arya Vysya Sabha, Gautami Granthalayam library in Rajahmundry, Stri Hitaishini Mandali [Women's Welfare organization in Bapatla], Andhra Yuvati Sanskrit College, Guild of Service, Central Sahitya Academi, and and many more. This list is sufficient to emphasize the wide array of her interests and accomplishments.
Lakshmikantamma possessed a versatile and exhilarating personality. In her autobiography, she stated that she would keep laughing always. Pilaka Ganapati Sastry, who became a famous novelist later, was her teacher for a brief period. At the time, he was still young and shy. Lakshmikantamma was amused while he was teaching Sakuntala, a play, and kept laughing. It was disconcerting to Ganapati Sastry. Later, he told her father, Krishna Rao, that, "I used to pick from her laughter, the in depth meaning and beauty of poetry in Kalidasa's poetry and bless her in my own mind." (Sahiti Rudrama, p. 43).
Lakshmikantamma's father was a follower of Brahma samajam, which rejects polytheism and promotes one god theory. Her mother Suseelamma believed in Hindu tradition. However she changed some of her religious practices to please her husband, she wrote in her article pavitra smruthulu [Pious memories] published in Yugapurushudu Veeresalingam published in Veeresalingam Satajayanti sanchika, Hyderabad.
Ever since she was a teen, Lakshmikantamma had been living active public life. She was attending public forums, literary meets and conferences and delivering stimulating and scholarly speeches. Writing and publishing came much later, early 1950's to be specific.
The circumstances surrounding her first book, Andhra kavayitrulu are interesting. In 1953, Telugu Bhasha Samiti [Telugu Literary Guild], Madras, announced a competition and invited writers to write a book on Telugu women poets. Lakshmikantamma's husband, Mr. Gupta, and several friends suggested she should write the book. Lakshmikantamma however was not interested. She said, "Reputable scholar Veeresalingam compiled the book Telugu kavulu [Telugu poets] in which he had included about six hundred writers. In it, he mentioned only five or six women poets. If you look carefully, you may find only one hundred poets worth mentioning and possibly one of them would be a woman. I do not want to take that one poet and hold up to the world, and thereby expose that we have no women poets worth mentioning." (sahiti rudrama, p.81.) Then, one of her close friends, Boddupalli Purushottam suggested that she could at least make an effort to see if there were more women poets. Convinced by his argument, she set out to search for women poets. She traveled to famous libraries in other places like Vetapalem, Madras, and Tanjore, and went through thousands of magazines such as gruhalakshmi, Hindusundari and literally unearthed 264 women poets who had produced excellent works. Lakshmikantamma's very first book was a first prize winner in a competition held by a reputable literary guild, Telugu Bhasha Samiti.
In the history of Telugu literature, this book Andhra Kavayitrulu is the only comprehensive work on women poets to date. This is being used as a valuable reference tool by research scholars. Arudra, an established writer and researcher, used it as a source for writing about women poets Molla and Mohanangi in his samagra Andhra sahityam.
The second edition of Andhra kavayitrulu, published in 1980, included only 86 poets. In her preface to the second edition, some of the comments made by the author are worth quoting. Lakshmikantamma stated that she herself was not sure if she could revive the enthusiasm and the style she had evinced while working on the first edition. She was somewhat disappointed by the prevalent perceptions regarding education, language and scholarship in the country. In the past, scholarship was respected. Now (at the time producing the second edition) the shrinking respect for classical poetry in the face of growing interest in fiction is discouraging. Lakshmikantamma also mentioned the cost of paper and printing. Personally, I am sad that money should play such crucial role in publishing the second edition. The second edition included only 86 poets as opposed to more than 200 poets (I have only the second edition on hand for reference). In any case, I sincerely hope that Andhra Pradesh Akademi or some other literary organization would undertake publication of the full version before it is lost totally. At this writing, the book is out of print. And it is too valuable to neglect.
Having said that, I need to address a couple of other comments on some entries in this work, Andhra kavayitrulu. One of them is the authenticity of the claim that Krishnadeva rayalu had a daughter named Mohanangi and she authored a book, marichi parinayam. Lakshmikantamma devoted six pages to Mohanangi and marichi parinayam in her book.  Arudra took this information and incorporated in his book, samagra Andhra sahityam [Complete History of Andhra Literature]. However, while writing about Mohanangi, Arudra wrote, "They say Mohanangi was daughter of Krishnadeva rayalu." By shifting the speaker to an unverifiable "they", it would appear, he was not sure if that was authenticated. He did not clearly contradict Lakshmikantamma's statement though. In 2002, I met with two reputable scholars, Dr. Nayani Krishnakumari and Dr. Kolavennu Malayavasini. They both stated that there was no verifiable evidence to show that Krishnadeva rayalu had a daughter, and that the authorship of marichi parinayam had not been established unequivocally.
A second comment on Lakshmikantamma's work was by Sangidasu Srinivas who commented that Lakshmikantamma had not given full credit to a poet named Kuppambika (Andhra Jyothy September 22, 2008 Vividha page).
My position is scholars usually set parameters for themselves and work within those parameters. Lakshmikantamma went to great lengths, researched all the sources available to her at the time and recorded the data. Other researchers may find more information or different perceptions in course of time. That does not mean that the work done by earlier researcher, whether it is Lakshmikantamma or another scholar, is less significant. It is quite normal for latter researchers to find more evidence or lack thereof and add further to the existing data.
Lakshmikantamma's works fall broadly into four categories. 1. Classical poetry in Telugu and Sanskrit; 2. Modern poetry; 3. Essays and biography, and, 4. Plays.
In Sanskrit, she authored kanyaka parameswari sthavam, extempore, in praise of the goddess Kanyaka. It is being recited as invocation prayer in the morning in several temples of Kanyaka across the state. (Vijnan Kumar. Personal correspondence, dated September 22, 2008). Another work of her in Sanskrit is Devi sthava taraavali in praise of goddess Devi.
In the book, naa Telugu Manchalaa, [My Telugu Manchala], 98 pages, Lakshmikantamma portrays Manchala as a 16-year old, intelligent woman endowed with remarkable beauty and sense of patriotism. The story is popularly known in Andhra Pradesh as that of Balachandrudu, Manchala's husband.  His mother, Prolama would want her son to go to war and earn her the title hero-mother (veeramaata) on one hand and, on the other, her maternal instinct would want him to stay home. In a strategic move, she sent him to his wife, Manchala, hoping her beauty would prevail and keep him at home. Manchala on the contrary provoked him in a cleverly manipulative language, and sent him to the battlefield. The verses are written in simple Telugu yet powerful in conveying the various rasas as appropriate in different stages. Lakshmikantamma had mentioned in the preface that there might be some stylistic lapses in terms of meter.
Kanthi sikharaalu is a collection of devotional lyrics, imbibing the tenets of Brahma samajam, which she had followed fervently in her teen years. The author stated in her preface that her inspiration for writing these lyrics was the singing by well-known romantic poet, Devulapalli Krishna Sastry. The language is simple and lucid, which appeal to all, scholars and non-scholars alike.
Okka chinna divve [A Small Lamp] is a collection of seventeen long poems, presented as a tribute to Gandhi. In her preface, she stated that she had the opportunity to participate in Gandhi's non-violence movementi in her teen years (about 13 to 19 years of age), which contributed immensely in defining her values of patriotism and service. Additionally, she chose the title A Small Lamp to accentuate her respect for Gandhi, although not all the lyrics were about Gandhi. It included other topics such as a Telugu New Year day, Diwali, soldiers, and an invitation to youth. Some of them were written in semi-classical style with complex, descriptive phrases, and others in near colloquial style.
To me, this variation in style seems to point to the shift from classical to free verse that has been taking place at the time not only in her writings but in the country in general.
On a slightly different note, I would like to mention Lakshmikantamma's comments on language as stated in her autobiography. She stated that while she was teaching maha bharata in Bapatla College, prominent linguistics professor, Bhadriraju Krishnamurthy, attended her classes. Impressed by her scholastic excellence, Krishnamurthy invited her to speak at a literary meet in Ongole. There she went out of the way from lecturing on Maha Bharata and introduced a new argument that Telugu language originated from Dravidian languages. Later Professor Krishnamurthy met with her and obtained detailed information about her argument and incorporated in his course content for second year M.A. (Sahiti Rudrama, p. 92-93).
The title of the book, kanyakamma nivaali, literally means a tribute to the goddess Kanyaka. Inside however, it is a collection of short verses, 3 lines and the caption Oh Kanyakamma. Most of the poems are humorous and/or sarcastic comments on contemporary lifestyle and society. A few of them are serious observations. The author writes in her preface that she was inspired by Koonalamma padaalu written by Arudra.
Saraswati samraayja vaibhavam, [23 pages], is a one-act play, which incorporated some well-known poems from the published works. It presents on one platform nine women poets, who lived at different times from 13 to 20th centuries. Additionally, the author introduces two secondary characters partly as comic relief in step with the practice in stage plays. The poets recite poems from their best works both in Telugu and Sanskrit.
Lakshmikantamma's works of history and literary criticism include Andhra kavayitrulu [Andhra female poets], Akhila Bharata Kavayitrulu [All India female poets], Andhrula keertana kalaa seva [Service of the Andhra people to music], naa videsa paryatana anubhavaalu [My Experiences during my tours to other countries], contributions to Vijnana Sarvasvam [articles in Telugu Encyclopedia], and numerous articles published in reputable journals. Unpublished works as of 1993: Story of Chandramati [Children's book], Sahitya vyasa manjari [Literary essays], and Rutambari [prose ballad].
She also translated Humayun Kabir's essays in English (Our country's history and the lessons learned), and Hindi dohas by Kabir, Tulasi Binda and Rahim. She edited classical works, Molla Ramayanam and Vishnu parijata yakshagaanam. She wrote more than one thousand prefaces to books by other writers.
In her autobiography, Lakshmikantamma mentioned that at the beginning of her literary career, she published her poems under the pseudonym 'Krishnakumari'. Soon after, her husband suggested that she should publish her poetry in her own name since they were so good. She did so, although she used yet another pseudonym 'sukanchana' for her story, Korala madhya koti swargaalu [Ten million heavens stuck between fangs], included in kathamandaram, an anthology of short stories published in 1968.
I think a brief note on her multifarious involvement in women's organizations, social movements and public events, is appropriate here. She was a great speaker, fundraiser, organizer of literary meets and associations, active participant in charitable events, and herself a kind and generous individual. She was a driving force in women writers' conferences at state and national level, had attended international women writers' conferences, and was a sitting member at legislative council in two universities and various literary organs at the state and national level. She was honored at international women writers meets also. (I had the honor of being on stage with Lakshmikantamma at Andhra Women Writers Conferences in 1968 and 1969 and receive mementoes from her.). Sri Potti Sreeramulu Telugu University, Hyderabad, produced a documentary on her life. University of Toronto, Canada, collected complete works of Lakshmikantamma. Her work had been research topic for doctoral dessertation.
I would like to go on a limb here and comment on her activities in her community. In an age when "caste" is considered a bad word, it is pleasing to note Lakshmikantamma's involvement and contribution to Arya Vysya mahasabha [Business community in the scheme of societal breakdown based on Hindu beliefs]. She made no apology for being part of her community, and showed how the community spirit could be instrumental in bringing people together. This is particularly relevant in the context of her growing up with her father, who was a staunch Brahmo samaj follower.
In her autobiography, Lakshmikantamma listed some of her writings as "works unable to succeed". I went through the list of books Lakshmikantamma had listed as "not successful".
I am not sure what made her come to that conclusion. For instance, in the same list, she stated that Naa Telugu Manchala had received the Telugu University award and had been prescribed as textbook in St. Teresa's college, Eluru. Her Sanskrit poem, kanyakaa parameswari suprabhatam is being recited in several temples of Kanyaka as daily morning prayers. That being the case, I must assume she was referring to the success as understood in modern times, which would bring me to comment on the definition of success.
In today's world, success is correlated to sales. A parallel example would be a critically acclaimed movie failing at box office. Probably it is the same with books. Additionally, in Andhra Pradesh, book sales do not always reflect the actual readership. For one thing, buying books is not common in Andhra Pradesh, possibly because of our belief in free dissemination of knowledge, an idea sustained by oral tradition. Secondly, one book bought by one person is read not just by that one person but by other family members and friends also. Thus the number of books sold does not always reflect the number of readers for that one book.
At the risk of repetition, I would like to add a note on Lakshmikantamma's major works. The books, Andhra kavayitrulu, first edition featuring pen portraits of more than 200 female poets from 13th to 20th centuries, Andhra sahitya vijnana sarvasam, originally compiled by her father, Krishna Rao, and which she later edited with annotations by her, Akhila Bharata kavayitrulu [All India Women Poets], and sahiti rudruma (Autobiography) remain landmarks in the history of Telugu literature.
This article is not comprehensive but a modest attempt to provide a brief introduction to the accomplishments of a versatile poet of our times. To present a comprehensive analysis of her accomplishments is beyond the scope of this article. My hope is to motivate readers to go to the original sources and learn more about this remarkable woman and poet. Those who are interested in further study of Lakshmikantamma's multifarious personality and work may find the list attached as an addendum to her autobiography, Sahiti Rudrama useful.
Additionally, I believe that publication of Lakshmikantamma's complete works with annotations and preserving it for posterity would be a welcome undertaking and service to Telugu literary and cultural service. This is particularly vital in the light of dwindling abilities of the current generation to appreciate classical, semi-classical and modern literature produced by our immediate predecessors.
She had been awarded twelve honorary titles, marking her literary achievements.
Once again, I am thankful to Vijnan Kumar, third son of Lakshmikantamma, for kindly lending me the books, which were immensely helpful in writing this article.
(End)
Source List (Works by Dr. Utukuri Lakshmikantamma, published by author)
Andhra kavayitrulu. 2d ed. 1980.
Kaanti sikharaalu. 1978.
Kanyakamma nivaali. 1978.
Oka chinna divve. 1980
Naa Telugu Manchala. 1981.
Sahiti Rudrama. 1993.
Saraswati saamrayja vaibhavam. 1988.
Other works:
Samsmruti (In her memory). Bapatla: Smaraka samiti, 1997.
Suseelamma, Nalam. Pavitra smruthulu. Yugapurushudu Veeresalingam. Hyderabad: Kandukuri Veeresalingam smarakotsvamula sangham. n.d. pp. 93-96.
Complete list of her works:
Works by Utukuri Lakshmikanthamma.
Andhra Kavayitrulu. 1953
Akhila Bharata racayitrulu. Sahitya Akademi, 1963
Andhrula Keertana Kala Seva [Andhra People's contribution to the art of music]
Sri Kanyaka parameswari Suprabhatam [Sanskrit verses extoling the virtues of the goddess, Kanyaka]
Devi stava taravali [Verses praising Devi]
Jathi pitha [Father of the nation]
Sadukti manjari [Book of good words spoken by Hindi poets, Kabir, Tulsi das, and Vinda Rahim]
Bharatadesa charitra, konni guna paathamulu. [History of India, some lessons learned]
Kanti sikharalu. [Devotional songs]
Mahila ikrama suktam
Mana sahiti madhu bharati [Ballad]
Kanyakamma nivali [Poetry, satiric comments on modern day society]
Okka chinna divve [A Small lamp, poems]
Naa Telugu Manchala [Manchala, My Telugu hero]
Lajja kireety dharini [The Woman, who wore shame as her crown]
Naa videsa paryatana anubhavalu [[My experiences of foreign tours]
Articles contributed to Sangraha Andhra Vignana Sarwaswam [Complete Telugu Encyclopedia]
Saraswati samrajya vaidbhavam. [One act play]
Sahiti Rudrama [Autobiography]
Fiction.
Korala madhyana koti swaragalu
Chikati rajyam.
Unpublished books
Story of Chandramati [Children's book]
Sahitya vyasa manjari [Anthology of literary essays]
Rutambari [Prose ballad]
Edited
Molla Ramayanam
Vishnu parijata yakshaganam
Prefaces for over 1000 books
Delivered over 3000 speeches on a wide variety of topics in literature, and Hindu religion.
(This article has been written by Nidadavolu Malathi and published originally on thulika.net, September, 2008.)